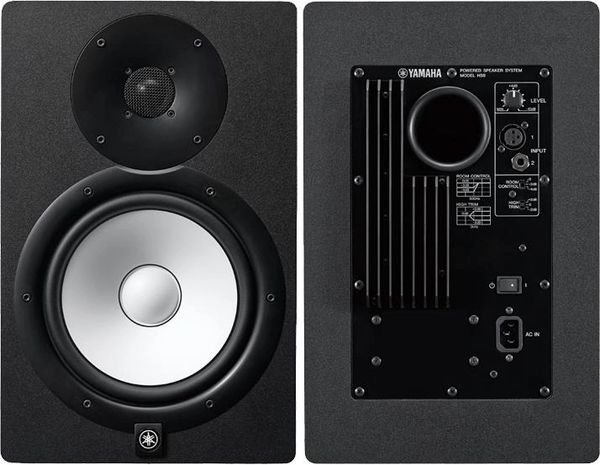 Yamaha HS8
Ever since the 1970s, the iconic white woofer and signature sound of Yamaha's near-field reference monitors have become a genuine industry standard for a reason-their unerring consistent accuracy. The newest HS Series speakers were designed to give you the most honest, precise reference possible, providing an ideal sonic platform to build on throughout the mixing process. By combining our years of studio knowledge and expertise with state-of-the-art analysis tools, Yamaha's speaker engineering team have examined, then optimized, every aspect of the design to make these monitors the most trusted in the business.
KEY FEATURES
• Newly developed transducers that achieve astonishingly smooth response over a wide range of bandwidth
• Newly designed, highly-efficient 1" dome tweeter that extends the usable frequency range considerably and delivers superb high-resolution sound
• Newly designed, ultra-responsive woofers that utilize large, carefully selected magnets, HS Series monitors product low distortion sound with a well-defined bottom end at any output level
• Low resonance enclosure design designed to eliminate unwanted resonance and increase the accuracy of sound reproduction to its extreme limit
• Cutting edge noise reduction technology resulting in a reduction of audible noise up to 6dB
SPECIFICATIONS
• Speaker type: 2-way bi-amp powered studio monitor
• Frequency Range: 38Hz - 30kHz
• Components LF: 8" cone. HF: 1" dome
• Crossover: 2kHz
• Output power: 120W (LF:75W, HF:45W)
• I/O connectors: XLR3-31 type (balanced), PHONE (balanced)
• Power consumption: 60W
• Shape: Bass-reflex type
• Cabinet material: MDF
• Dimensions (W, H, D): 250mm (9.8"), 390mm (15.4"), 334mm (13.1")
• Weight: 10.2kg (22.5 lbs.
• LEVEL control: (+4dB/center click)
• EQ: HIGH TRIM switch (+/- 2dB at HF) / ROOM CONTROL switch (0/-2/-4 dB under 500Hz)
*Yamaha HS8I comes with installation wall/ ceiling brackets.