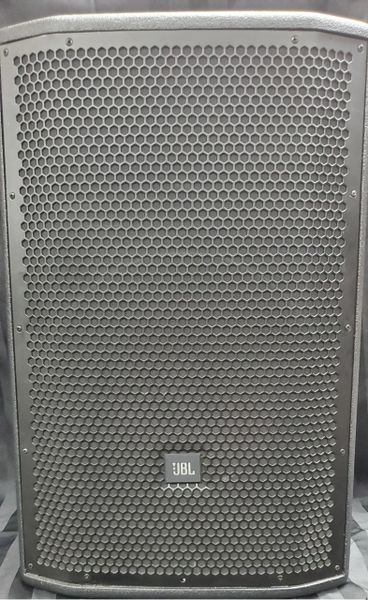 Used JBL PRX812W
The PRX812W is a full-range speaker designed for main system and floor monitor applications. Featuring a 12", two-way, bass-reflex design powered by a 1500-watt class-D amplifier, PRX812W delivers incredible volume in a lightweight and compact form factor.
The PRX800W series integrates embedded ioSYS technology which enables easier setup and control when used with the HARMAN Connected PA app and compatible products. Connected PA delivers seamless plug-and-play operation with a variety of HARMAN equipment and enables you to control your entire live sound system with one app. Products within the Connected PA system self-identify and retain presets for effortless setup, and setup wizards help you quickly optimize speaker levels, configuration settings and EQ. Current products with embedded ioSYS technology and HARMAN Connected PA compatibility include the Ui24R mixer, JBL PRX800W loudspeakers, dbx Di1 direct boxes, and AKG P5i microphones.
Features:
• Built-in Wi-Fi for wireless control of your system from anywhere in the venue
• Free PRX Connect mobile app for iOS and Android provides wireless control over volume levels, 8-band parametric EQ and up to 50ms of speaker delay to fine-tune your sound
• Class-leading 1500-watt amplifier delivers ample power to fill your venue
• JBL Differential Drive transducers for higher SPL in a lightweight design
• Next-generation JBL neodymium compression drivers
• Redesigned Crown input technology, including XLR, 1/4 and RCA inputs plus XLR loop-through
• Intelligent variable-speed fan activates only when needed to reduce noise
• Updated tuning delivers flat frequency response and smooth off-axis behavior
• Durable wooden cabinets, tour-proven DuraFlex finish and dent-resistant 16-gauge grilles
• Universal power supply for worldwide compatibility
• dbx Type IV limiting ensures clear, accurate sound at high volumes
• Brutal testing regimen--including the famous JBL 100-hour power test--ensures reliable performance
Specifications:
• System Type: Self Powered 12", two-way, bass-reflex
• Maximum SPL Output: 135 dB peak
• Frequency Range (-10 dB): Main: 44.8 Hz - 20 kHz Monitor: 44.8 Hz - 20 kHz
• Frequency Response (+/-3 dB): Main: 55.7 Hz - 20 kHz Monitor: 56.5 Hz - 20 kHz
• Input Connectors: 2 x Balanced XLR / 1/4 inch input, 2 x unbalanced RCA input
• Input Impedance: 20K Ohms (balanced), 10K Ohms (unbalanced)
• Signal Indicators: Limit - Yellow LED indicates peak output has been reached and dsp limiter is acting
Signal - Green LED indicates signal present
Power - Blue indicates system has power and ready to pass audio
• EQ: User selectable presets for Main or Monitor position, Advanced EQ settings available using Wi-Fi and PRX Connect application
• Dynamic Control (Input): dbx Type IV limiter circuit
• Crossover Frequency: 1.85 kHz
• Design: Highly efficient Class-D amplifier
• Power Rating: 1500W (750W x 2)
• AC Power Input: 100V - 240V ~ 50/60 Hz
• LF Driver: 1 x JBL 272G 305 mm (12 in) woofer
• HF Driver: 1 x JBL 2408H-2 37.5 mm (1.5 in) annular polymer diaphragm, neodymium compression driver
• Coverage Pattern: 90 x 50 degrees nominal
• Directivity Index (DI) 10.2 dB
• Directivity Factor (Q): 10.4
• Enclosure: Asymmetrical, 18 mm, plywood
• Suspension / Mounting: Dual 36 mm pole socket, 12 x M10 Suspension Points
• Transport: 1 x injection molded handle with backing cup
• Finish: Obsidian DuraFlex finish
• Grille: Powder coated, Obsidian, 16 gauge perforated steel with acoustical transparent black cloth backing.
• Dimensions (H x W x D): 599 mm x 385 mm x 341 mm (23.6 in x 15.1 in x 13.4 in)
• Net Weight: 40 lbs / 18.1 kg