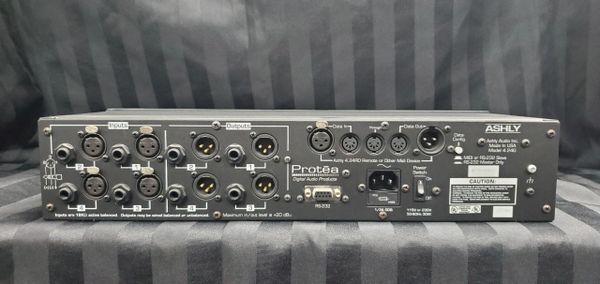 Used Ashly Protea 4.24G
OVERVIEW
As simple as your old-style graphic but more powerful.
Full control of the Protea 4.24G 4-Channel Graphic EQ System Processor is accomplished from the front panel in an intuitive and straight-forward layout. It's like using your old analog equalizer, only with extra features and benefits to simplify your audio chain requirements. Housed in an all-steel 2RU package, the 4.24G has all the audio processing tools needed for flawless equalization and sound control. In addition to 28 bands of 1/3-octave EQ are a programmable compressor/limiter for speaker protection and programmable delay of up to 1.364 seconds for time delay applications required by speaker arrays and clusters or monitor speakers. Individual, programmable 24dB/octave high- and low-pass filters allow you to zero in and fine tune the audio spectrum you need to work in. A large 240 x 64 fluorescent backlit display keeps you constantly informed of every parameter, function and utility, including metering and user preferences. The 4.24G may be controlled from a remote location using the Protea 4.24RD.
FEATURES
24 Bit A/D - D/A Audio Resolution
24 Bit/100 MHz (x2) Digital Signal
Processing
Four 28-Band 1/3 Octave Channels of EQ
Programmable Compressor/Limiter
Programmable Delay up to 1.364 Seconds
Programmable High and Low Pass Filters
Balanced XLR and 1/4® Inputs and Outputs
Intuitive User Interface
Large, 240 X 64 Fluorescent Backlit Display
Linkable Channels
Constant Q/Reciprocal Filter Design
±15dB Boost and Cut, 0.5dB increments
128 Preset Locations, 50 Scenes
RS-232 Computer Interface
Full MIDI Implementation
Input and Output Metering
Password Protection of System Operation
5-Year Worry-Free Warranty
SPECIFICATIONS
Input
Type: Active Balanced
Impedance: 18 K ohms
Max. Level: +20dBu
Output
Type: Pseudo-Balanced
Impedance: 200 ohms
Max. Level: +20dBu
Frequency Response: ±.25dB 20Hz-20kHz
THD (20Hz-20kHz): : <.01% @ 1KHz, +20dBu
Dynamic Range: >110dB (20Hz-20KHz) unweighted
Output Noise: <-90dBu unweighted
Filters
Type: Constant Q, Reciprocating
Number: 4 X 28
Filter Spacing: 1/3 Octave
Range: ± 15dB, 0.5dB Increments
Q: Fixed, 3.2
Power Requirements: 90-125VAC, 50-60Hz, 30W, 180-250VAC 50-60Hz, 30W
Shipping Weight: 14 lbs
Dimensions: 19"L x 3.5"H x 8"D
I/O Connectors: XLR, 1/4"
Environmental: 40-120 deg. F Noncondensing
Compressor/Limiter
Threshold: -20dBu to +20 dBu; 1dB increments
Ratio: 1.2:1 to Infinity, (1.2:1, 1.5:1, 2:1, 3:1, 4:1, 6:1, 10:1, 20:1, inf:1)
Attack: (0.5ms to 50ms per dB (.5, 1, 2, 5, 10, 20, 50ms)
Release: 10ms to 1 sec per dB; 1.2:1, 1.5:1, 2:1, 3:1, 4:1, 6:1, 10:1, 20:1, inf:1) (10, 20, 50, 100, 200, 500ms, 1 Sec)
HPF: 24dB/Octave
Range: 20Hz to 10.6Khz
LPF: 24dB/Octave
Range: 33Hz to 20.1KHz
Delay
Maximum Delay: 1.364 seconds
Increment: 20us
Processor
Input A to D: 24 Bit
Output D to A: 24 Bit
Processor: 24 Bit, 56 Bit Accumulator
Sample Rate: 48KHz
Propagation Delay: 1.46ms