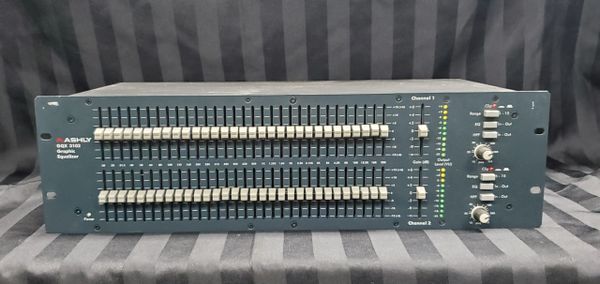 Used Ashly GQX 3102
GQX Series graphic equalizers are available in two configurations. The GQX-1502 features two channels of 15-band 2/3-octave equalization and a switchable high-pass filter (40Hz). The GQX-3102 features two channels of 31-band 1/3-octave EQ, a tunable high-pass filter circuit (8Hz to 200Hz), a switch-selectable cut or boost of either 6dB or 15dB. The 45mm full-throw faders are a custom-manufactured metal-shaft type, with the center detented position utilized as an "on/off" switch for that filter which minimizes any possible degradation in signal noise levels. A 10-segment, two color LED meter displays accurately displays your signal level and referenses 0 VU to +4dBu.
The GQX models are designed to be significantly quiet without the need for noise reduction to be built into the equalizer circuit. Double-sided circuit boards and an extensive ground plane design are used in the filter sections to improve RFI and electrostatic immunity. Precision Wein-Bridge filters and carefully designed summing amplifiers combine to provide extremely accurate response, low noise, negligible distortion, and complete immunity to magnetic fields. All filters exhibit true constant "Q" response with no broadening near the "flat" setting. High slew-rate circuitry throughout the signal path results in clean, quiet, transparent sound. The faders used are a custom-manufactured metal-shaft type, with molded saddle knobs, for the ultimate in reliability and smooth "feel". Ashly's unique "T-Beam" front panel construction eliminates interconnections between the faders and the filters, resulting in a very rugged and rigid front panel.
Input and output connections include locking XLR, 1/4" TRS and Euroblock. Ashly's servo-balanced output circuitry maintains unity gain even if pins 2 or 3 are connected directly to ground. The power supply is a universal switching power supply which operates from 100-240VAC, 50/60Hz with the power switch located on the rear panel.