Tascam DR-22WL Portable Recorder with WiFi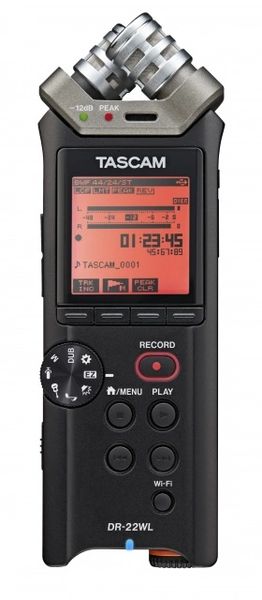 Tascam DR-22WL Portable Recorder with WiFi

DR-22WL
The groundbreaking
DR-22WL
from TASCAM is the first portable recorder to include Wi-Fi for transport control, file transfer, and audio streaming to your smartphone or PC. Other innovations like the new Scene Dial make it easier than ever to capture great-sounding recordings and share them online. A set of stereo condenser microphones is arranged in true XY pattern for ideal stereo imaging. The eight-position Scene Dial selects recording settings for typical situations, or can be set to full manual for greater control.
Included in the DR-22WL is a Wi-Fi function for controlling its transport and transferring files to a smartphone or computer. A free app for iOS and Android controls the transport and transfers files for instant upload. For a recording beginner or experienced user looking for a great-sounding, portable recorder with Wi-Fi, the DR-22WL is the only choice.
Recorder Section
Supported WAV recording formats: 44.1k/48k/96kHz, 16/24bit, WAV/BWF
Supported MP3 recording format: 44.1k/48kkHZ, 32k to 320kbps, MP3
Recording media: microSD/SDHC/SDXC card (up to 128GB SDXC card)
Recording Hardware
Cardioid stereo condenser microphones fixed in X-Y position
High sound pressure design captures levels up to 120dB SPL
PGA (programmable gain amplifier) and Cirrus Logic CS42L52 audio codec for low-noise, high-performance audio recording
Key Features
Scene Dial Presets for instant setup of common recording applications
Remote control, file transfer and streaming playback using 2.4GHz Wi-Fi
Wi-Fi connects directly to smartphone without a router
Full remote control using the free TASCAM app for iOS and Android
Recorded audio can be posted directly to SoundCloud using the TASCAM DR Control app.
Recording Function
Dual format recording function allows simultaneous recording of both WAV and MP3 files
Automatic level optimization functions (Peak Reduction & Limiter)
Low-cut filter with four selectable frequencies (40/80/120/220Hz)
Pre-recording buffer records up to 2 seconds prior to starting recording
Automatic track increment function that can be set according to the application (level, elapsed time or manual)
Auto recording function that can detect the sound input signal level and automatically start recording
Automatic mark function that adds marks according to set conditions (peak detection or manual)
Playback Function
Speed change (VSA) function for adjusting the speed from 0.5 to 2.0 times (in 0.1 increments)
A-B Loop playback function that is convention for practicing music
Editing Function
Automatic division function that divides files at marks (manual division also possible)
Other Function
Reverb effect for vocal and instrument resonance
Automatic power saving function that prevents unnecessary waste of battery power
Resume function that retains the last stop position when power is turned back ON
File name format can be set to use a user-defined word or the date
Audio files created on computers can be played (Only in formats compatible with this product)
Other Hardware
Built-in monaural speaker with an output of 0.3W
128×128 pixel oversized graphic LCD with backlight
USB 2.0 High-speed file transfer to a computer
Stereo mini headphone line output / Headphone output connector
Powered by four AA batteries, USB bus power, or AC adapter
Long-time operation of over ** hours is possible using just the internal batteries
Strap -hole
Tripod attachment screw-hole
4GB microSD card is included
RoHS certified