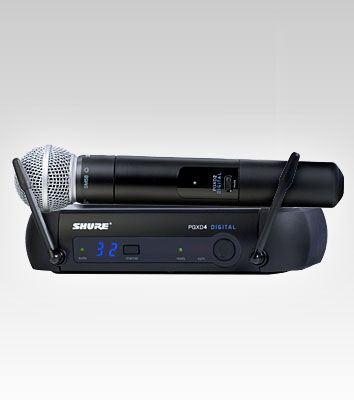 Shure PGXD24/SM58-X8
The PGXD24/SM58 Handheld Wireless System is part of the PGX-D wireless systems family.
PGX-D Digital Wireless, with state-of-the-art, 24-bit digital audio and trusted Shure microphones, delivers stunning sound and a strong, clean RF signal.

Includes PGXD4 receiver, PGXD2/SM58 handheld transmitter, clip, power supply, 2 AA batteries, carrying case, and user guide.
PGXD4 Wireless Receiver
The Shure PGXD4 receiver offers innovative 24-bit, 48 kHz digital audio technology for wireless that sounds like wired. True digital diversity means two antennas and two independent receivers are constantly working to provide rock-solid RF signal, and one touch scan finds a clear frequency instantly, making set up a snap.
24-bit / 48kHz digital technology for incredibly accurate sound
Automatic frequency selection locates a clear channel instantly
One-touch sync automatically syncs the transmitter and receiver
True digital diversity for rock-solid wireless signal reliability
Up to 5 compatible channels per frequency band
1/4" and XLR audio outputs
Included padded carrying case for portability and protection
PGXD2/SM58 Handheld Wireless Microphone Transmitter
With an interchangeable SM58® microphone cartridge, the PGXD2/SM58 transmits wireless audio with pure digital clarity and rock-solid reliability.
Works with PGX-D Digital Wireless Systems
Offers up to 9 hours of continuous battery life with AA alkaline or rechargeable batteries
Includes PGXD2/SM58, 2 AA batteries, microphone clip, and user guide
Features
Power, mute, and battery status
LED10 dB of adjustable gain
Lockable interface prevents accidental setting changes
Rugged construction for reliable performance show after show