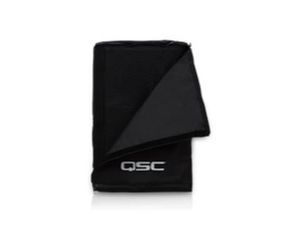 QSC K8-Outdoor Cover

QSC K8 Outdoor Cover
Protect your QSC K8 speaker from the elements with QSC K8 Outdoor Cover. Designed for temporary outdoor use, the K8 Outdoor Cover is perfect solution for keeping the party going no matter what the weather dishes out. This custom-fit cover is made from water-repellant nylon fabric and mesh. Rear access panels let you hook up cables and tweak controls with ease while keeping your gear dry. The front panel unzips and fastens to the side so you can continue playing music. Keep your gear safe and sound with the QSC K8 Outdoor Cover.
QSC K8 Outdoor Cover Features:
Custom fit cover for QSC K8 speakers
Vented panels for airflow and heat management
Rear panels give you access to controls and connectors
Not intended for installation or severe weather conditions
Protect your K8 speakers outdoors with the QSC K8 Outdoor Cover.