QSC GXD8 Professional Power Amplifier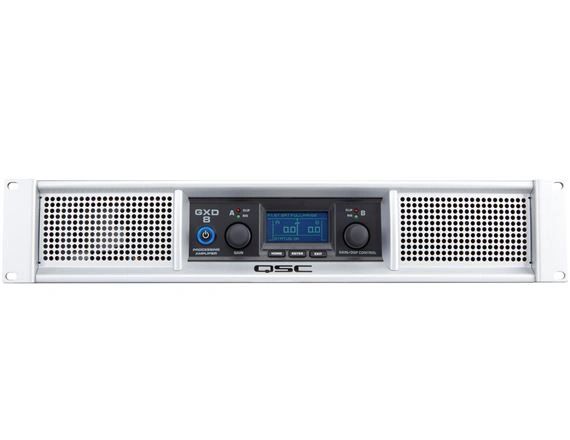 QSC GXD8 Professional Power Amplifier

QSC GXD8

GXD Series amplifiers are ideal for entertainment and production applications requiring performance and the convenience of integral signal processing. The hallmarks of the QSC brand – professional audio quality, engineering and manufacturing focused on long-term reliability - are all intrinsic to GXD. Add contemporary styling, multiple routing options, light weight, digital signal processing and advanced protection circuitry, and the GXD Series clearly represents real value – something everyone can use. The GXD series is optimized for use with 8 and 4 ohm loudspeaker loads. GXD amplifiers deliver just the right amount of power to the most popular speakers used by entertainers and production professionals.
• High peak output power with up to 1600 watts from the GXD 4 and a whopping 4500 Watts from the GXD 8.
• Power levels matched to the most popular loudspeakers and optimized for maximum real-world headroom into 4Ω and 8Ω speaker systems.
• Class D output stage with a universal power supply for high performance and efficiency.
• Extensive and powerful loudspeaker processing built in. Includes high and low-pass filters, 4-band parameteric EQ, limiting, and delay.
• Large LCD display simplifies amplifier setup and indicates amp status.
• Inputs: Parallel XLR and 1/4" TRS connectors for compatibility with any source while providing convenient loop-thru capability.
• Precision rotary encoders for gain and DSP parameter control.
• Outputs: Professional binding post and NL4 connectors (compatible with NL2) provide for mono and bi-amp speaker connections.
• Digital limiting automatically protects the amplifier from damage due to temperature rise or overdrive.
• Adjustable speaker protection to match your loudspeaker's power and impedance.
• Front panel LEDs indicate signal presence, input overload, and amplifier clipping.
8
Ω
Power /Channel 4
Ω
Power /Channel Max Total Peak Power GXD 4n 400 Watts@ 8ohms- 600 Watts@4ohms 1600 Watt