Pioneer DJM-V10 6-Channel Professional DJ Mixer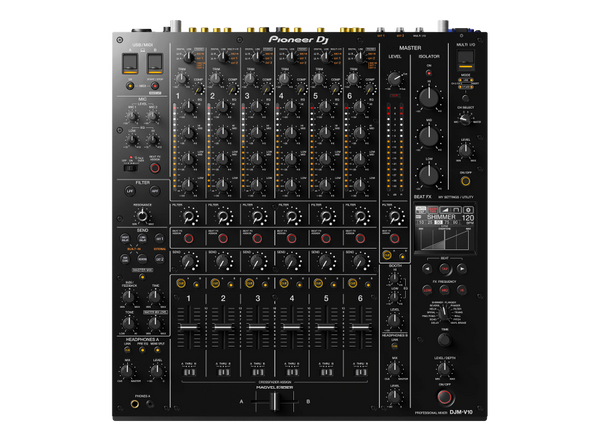 Pioneer DJM-V10 6-Channel Professional DJ Mixer
DJM-V10
Creative style 6-channel professional DJ mixer
Craft your sound
Forge a new sound with the DJM-V10; a new breed of mixer, born of fresh thinking. It's built to allow the most creative DJs to craft original soundscapes. This 6-channel unit – loaded with unique features – produces warm audio full of energy and presence. Take full control of your mix and get ready to create something the crowd has never heard before. 
60mm Shaft Slide Faders
If you like to perform smooth, detailed mixes, you can enjoy a high level of control with the DJM-V10-LF. The crossfader from the DJM-V10 has been removed and brand-new 60 mm shaft slide faders have replaced the 45 mm ones on the channels.
Unique Fader Curve
The unit includes two classic fader curves from its predecessor – optimized to make the most of the extra length – plus an all-new curve preset that enables you to make fine adjustments to the volume of each channel and precisely control the output sound.
Elite Sound Quality
Feel the warmth of natural sound and hear every detail. Studio-quality 64-bit mixing and dithering processing, 32-bit high-quality A/D and D/A converters, a low-jitter clock circuit, and many other components all work to  produce a full low-end, vibrant mids, and precise highs.
6 Channels with a Wide Range of Inputs
You're free to create your perfect setup with 6 channels and a host of different input types.
4-BAND EQ and Compressor
Take full control of your mix with the newly developed 4-band EQ. A built-in compressor enables further adjustment of the loudness of your tracks.
Effects for More Creative Expression
The expanded send/return section enables you to add external FX, or even combine them with built-in FX. Create unique sounds; the possibilities are nearly limitless.