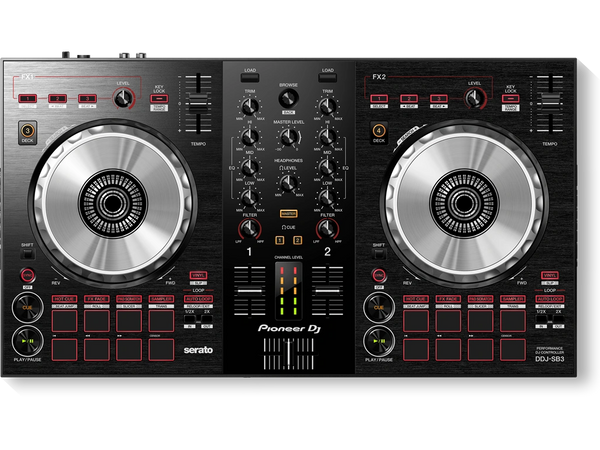 Pioneer DJ DDJ-SB3
PIONEER DJ DDJSB3
Start from scratch

Serato DJ controllers to make learning to DJ more accessible than ever. The ideal tool for beginners looking to hone their skills, this 2-channel controller is easy to navigate, featuring a professional-style layout inspired by our top DDJ-S range. Master Serato DJ Lite, then when you're ready, purchase Serato DJ Pro to progress on the one machine.

Transition between tracks with ease thanks to the added FX Fade feature and experiment with scratch effects without using turntables via the new Pad Scratch function. Co-developed with DJ Jazzy Jeff, this technique adds scratch recordings to tracks at a touch of the Performance Pads.
Key features

    Intuitive layout

    All of the features were designed to be where you need them, when you need them. The layout inherits elements from our DDJ-S series with jog wheels, Performance Pads, play and cue buttons, independent Auto Loop buttons and all knobs and fader positions arranged in an easy-to-reach way that mimics professional gear.


- 4-deck control with dedicated buttons to switch
between channels effortlessly
- Level meters to master the input volume
- Independent Play, Cue and Auto Loop buttons
- Eight rubber performance pads per deck
provide Hot Cues, FX Fade, Pad Scratch and
Sampler functions
- Integrated Pad Scratch techniques, recorded
by DJ Jazzy Jeff, for easy and unique scratch
performances
- New FX Fade function, which reduces the
volume and applies the FX at the same time.
- Large aluminum jog wheels for precise
scratching and mixing capabilities
- Premium construction and look
- USB powered with built-in sound card
USB Bus Powered
Yes
Compatible DJ Software (not included)
Unlocks Serato DJ Lite
Paid upgrade to Serato DJ Pro
What's in the box
DDJ-SB3
USB cable
Warranty

Operating Instructions (Quick Start Guide)
DJ Controller 
DDJ SB3
Pioneer sb3 
dj gear 
dj equipment 
sb3
SB3