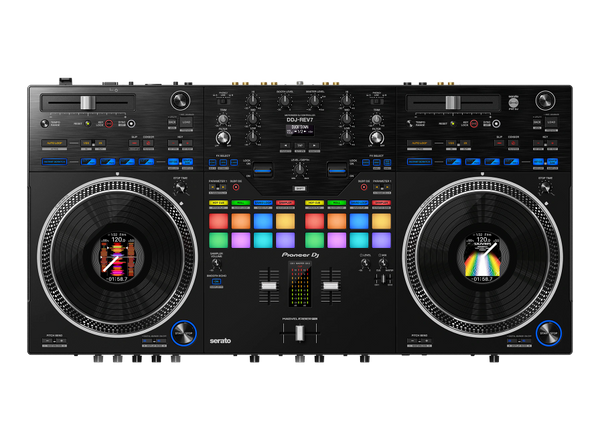 Pioneer DJ DDJ-REV7
DDJ-REV7
Scratch-style 2-channel professional DJ controller for Serato DJ Pro (Black)

The DDJ-REV DJ Controller Series is an ideal solution for open-format and scratch DJs as it emulates a
professional DJM-S mixer and PLX turntable setup. For the first time ever on a Pioneer DJ controller, the tempo
sliders sit horizontally on the top of the deck sections to mirror PLX turntables in a battle configuration, while the
Performance Pads and Lever FX paddles sit in the mixer section to parallel the DJM-S Series mixer design.
Unlike a traditional DJ controller, the DDJ-REV7 enables artists to replicate the analog mixing experience with its
motorized 7-inch VINYLIZED JOG wheels.
The jog wheels feature customizable settings and two slip sheets
included inside each deck to allow artists to experiment with torque and friction. The acrylic top plate is uniquely
finished to feel like a real analog record, and includes a spin treatment to easily catch on artists' fingertips.
In the center of each jog wheel is a 3.5-inch On Jog Display — delivering essential information to artists such as
track waveforms, Hot Cues and playback positions.
The On Jog Display features omnidirectional viewing angles
for clear readability, regardless of an artist's viewing angle. The DDJ-REV7 also inherits Pioneer DJ's renowned
Magvel Fader Pro for a slick and accurate response while scratching.
Sampling during scratching is now exceptionally streamlined thanks to the DDJ-REV7's new Instant Scratch
buttons. The Instant Scratch buttons, complete with four original samples, are a built-in controller feature, making
them accessible to artists without needing a laptop. Artists looking to drop their own samples, even full tracks, can
do so by loading samples into the Serato DJ Pro Scratch Bank and tapping the Performance Pads.
The DDJ-REV7 has 22 Beat FX's including 3 brand-new ones and five Sound Color FX for dramatic and
texturized performances. The new controller also features advanced audio components and produces the highest
level of sound quality in the entire Pioneer DJ controller range.
To use the DDJ-REV7 with Serato DJ Pro, update to the latest version of the software and use the bundled
voucher for the Pitch 'n Time DJ Expansion Pack to unlock this function.
Exclusive launch offer: Enjoy 3 Months of TIDAL HiFi for Free
Streaming with TIDAL in Serato DJ Pro gives artists access to an endless music library at the highest level of audio
quality available. With this limited-time launch offer, DJs will receive a unique code valid for 3 free months of TIDAL
HiFi when connecting their DDJ-REV7 to Serato DJ Pro for the first time.
PRODUCT OVERVIEW
Product category: Scratch-style 2-channel professional DJ controller for Serato DJ Pro
Model number: DDJ-REV7
DDJREV7
PIONEER DDJREV7