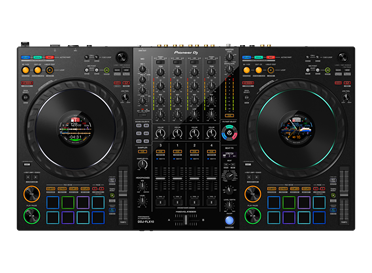 PIONEER DJ DDJ-FLX10
DDJ-FLX10
4-channel DJ performance controller for multiple DJ applications (Black)

The DDJ-FLX10 is a 4-channel performance DJ controller for rekordbox and Serato DJ Pro. It includes a host of brand-new features including Track Separation technology, which enables new creative possibilities such as the easy performance of mash-ups on the fly with no need to prepare tracks in advance.
Load the regular songs from your music library and create remixes and mash-ups on the fly by independently manipulating the 3 key parts of the music: vocals, drums, and inst (other instruments including bass and synths). There are dedicated color-coded buttons to control each part, so you'll always have a clear visual grasp of what's playing.

Evolved MAGVEL FADER 4-sensor system
Improved from the 2-sensor system on the DDJ-1000, the MAGVEL FADER on the DDJ-FLX10 uses a 4-sensor system. This allows you to make the tiniest volume adjustments, no matter how small the movement of the crossfader, enabling more musical performances.
rekordbox and Serato DJ Pro compatibility
The DDJ-FLX10 offers free plug-and-play compatibility with rekordbox and Serato DJ Pro, giving you hands-on control of your favorite software application. DVS support is available for rekordbox via selected subscription plans, and for Serato via a paid license/subscription to Serato DJ Expansions or Serato DJ Suite