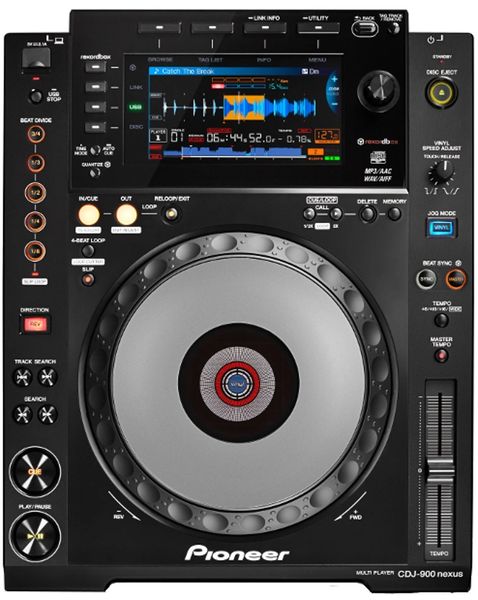 Pioneer DJ CDJ-900NEXUS
CDJ-900NXS CD/ MEDIA PLAYER W/ WIFI
FREE SHIPPING! 
cdj
Professional MultiPlayer
HID Mode Now Compatible with Serato® DJ!
Full color LCD screen with improved browsing and track information
Compatible with rekordbox™ music management software
Wi-Fi® and USB connectivity with smart devices
OVERVIEW
The new CDJ-900NXS player shares the operability and highest performance functions of the industry standard CDJ-2000NXS. The CDJ-900NXS features a large full-color LCD screen, rekordbox™1 music management, Wi-Fi® and USB connectivity with smart devices, and a variety of performance functions including Beat Sync, Quantize and the newly developed Beat Divide 
WINDOW OF FUNCTIONALITIES
The CDJ-900NXS utilizes a large full-color LCD panel to display a window of music information including track title, artist name, track number, time, tempo, beats per minute, and wave form.
Browse Screen – Displays album art, song name and artist for quick access.
Wave/Wave Zoom – In addition to displaying the entire wave form of current music playing, the player offers five levels of Wave Zoom to show the details of the wave form.
Beat Count – Accurately displays the number of beats until a set point.
Phase Meter – Displays the beats/bars of the music, which can also be seen on other connected players via Pro DJ Link2.
REKORDBOX™ SOFTWARE
The CDJ-900NXS includes rekordbox, Pioneer's proprietary music management software that organizes and catalogs a DJ's entire music library. When music files are imported to rekordbox, the software analyzes each file and prepares it for use specifically with the new CDJ players. An iOS version for use with iPhone®, iPad® and iPod® touch devices and Android™ OS version of rekordbox are also available for preparation of music while on the go. Key elements of Pioneer's rekordbox software:
Analyze:

Beats Per Minute (BPM) Data – BPM and tempo information for each song is identified and processed into rekordbox for preparing and performing a set.
Waveform Data – The waveform of each song is identified and then displayed on screen for quick data visualization and for use with the needle search function.

Customize:

Tag Info & Artwork – Edit and customize the file information to individual performance needs.
Cue Points, and Loops – Prepare and customize cues and loops.
Playlists – Create, edit, and manage customized playlists for various performances.
Beatgrid – Utilizing the new Quantizing feature, cue points and loops can be set perfectly on-beat.
Users can then transfer the analyzed music files to their preferred storage media and play them directly from the new CDJ-900NXS. The software offers song information that can be viewed easily during performances on the player's large display for quick search and access of content by genre, title, BPM, and more. In addition, as analyzed tracks are played, the unit automatically creates and saves a play history for review of past performances.Download rekordbox
SMART DEVICE CONNECTIVITY
The CDJ-900NXS is equipped for conventional and wireless connectivity. The player enable users to utilize iPhone, iPad and iPad touch devices or Android OS devices as the source for music content and can be connected via USB or Wi-Fi. When used, the touchscreen of the connected devices becomes the navigation tool for content. For additional convenience, the included Mac version of rekordbox enables the CDJ-900NXS to connect to a home network and retrieve music content wirelessly from a network connected computer.
Adapting to today's variety of media formats, the CDJ-900NXS enables playback of MP3, AAC, WAV and AIFF audio files from CDs and USB memory devices. A USB port located on top of the player enables users to switch out external storage devices quickly to minimize the need for connecting to laptop computers. 
NEW PERFORMANCE FEATURES
The CDJ-900NXS is built with numerous DJ functions for increased performance capabilities.
Beat Divide – A newly integrated function of the CDJ-900NXS, the Beat Divide enables a single beat of sound to be divided in ¾, 1/3, ½, ¼, and 1/8 increments and played for a specified number of beats without breaking the rhythm of the music.
Beat Sync – The feature let users instantly match tempo and beat location of songs when CDJ players are connected to a mixer using PRO DJ LINK.
Quantize – Utilizing a Quantizing feature, cue points and loops can be set perfectly on beat. The Quantize feature ensures cue points are set accurately and automatically, correcting and synching beats during manual looping or real-time cueing to reduce off-beat mistakes.
Slip Mode – When activated, Slip Mode silently continues song playback during a loop, reverse or scratch and continues audible playback at the exact time when the loop, reverse or scratch is ended, resulting in smoother transitions.
Wolfson Processor – To achieve excellent sound quality, the player is equipped with the audio industry's highly respected Wolfson® DAC processor, delivering a very transparent, accurate audio signal with a highly improved signal-to-noise ratio and increased headroom.
ADDITIONAL FEATURES
DJ software MIDI/HID control – Each player can be used to trigger other devices, such as DJ effectors and software by way of HID and/or MIDI.
My Settings – The function settings of a player can be saved to an iPhone, iPad or iPod touch or USB storage device. For additional convenience, the settings can also be made on the rekordbox App or software, giving users the ability to switch to their settings when connecting to a CDJ-900NXS or CDJ-2000NXS.
Traffic Light – Utilizing a multi-player PRO DJ LINK connection, a green light indicates that music will sound harmonious with the key of the music being played.
Active Loop – Automatically starts loops when playback begins from a specified point.
Beat Loop – Enables construction of precise 4-beat loops simply by pressing a button.
CD PLAYER 
MEDIA PLAYER
PIONEER DJ 
CDJ 900NEXUS 
CDJ 900 NEXUS 
CDJ-900 NEXUS 
cdj 900 
dj gear 
dj equipment 
DJ
pioneer cdj 
900