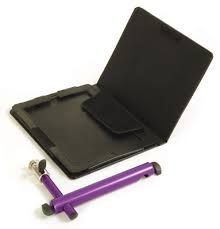 On Stage TCM9150
U-mount Tablet Case with Mounting System
The mount and case are one in the same!
Holds and protects full-size iPad® generations 1, 2, 3, and 4 without hindering access or Wi-Fi reception
Mounts to mic stands and other stage gear
Leather-like case
Aluminum mounting arm with solid steel ball-joint attachment
Machined steel ball-joint allows tilt and 360 degree rotational adjustment
The case can be removed and used independently
The tablet can be removed from the case while it is mounted to the stand
Mounts to a mic stand, desktop mini-stand, boom

Performers task tablet computers in stunningly creative ways every day. The On-Stage u-mount Tablet Mounting System is the way tablet computers become set lists, sheet music, mixing boards, playback devices, and even instruments themselves!
Simply mount the system to any microphone stand, instrument hardware or support gear, and create your own On-Stage Revolution!