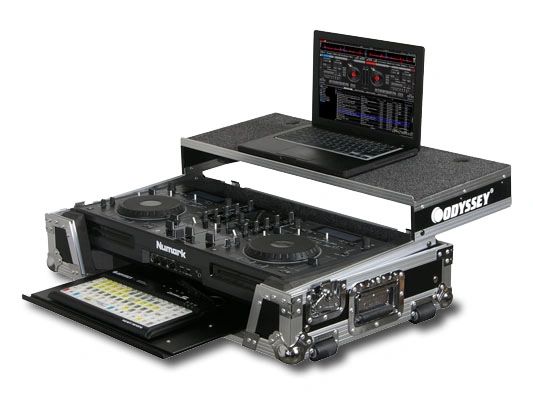 Odyssey FZGSMIXDECKGT
FZGSMIXDECKGT
NUMARK MIXDECK / MIXDECK QUAD ATA GLIDE STYLE™* FLIGHT ZONE® CASE
*(U.S. & China Patented. Other Foreign Patents Pending)

The Odyssey FZGSMIXDECKGT is an ATA flight case designed specifically for the Numark MIXDECK and MIXDECK QUAD DJ controllers and features Odyssey's revolutionary patented Glide Style™ laptop/gear platform. Diverse and functional, the FZGSMIXDECKGT's patented Glide Style™ design gives performers seamless access to their laptop or music gear with a sturdy wide-base glide platform at the top and a convenient pullout glide tray surface at the bottom. The protective case also features an exclusive, patent pending, high-density bevel foam that neatly angles upward from the interior of the case effectively raising and displaying the controller for an efficient control surface. The stylish V-Cut™ removable front panel allows for easy access to the front controls, headphone/mic jacks, and disc slots. A spacious ventilation pit under the controller is ideal for storing cables and other accessories.


Other case variations available:
• Black Label™ version with all black colored hardware (FZGSMIXDECKGTBL).
• Standard versions without the gliding laptop platform and no bottom GT™ Glide Tray (FZMIXDECK & FZMIXDECKBL)
• Flight FX™ Series with front LED Panel, gliding laptop platform, and bottom GT™ Glide Tray (FFXGSMIXDECKBL)


Features:
• Full Width Laptop/Gear Top Glide Platform
• Convenient Pullout Keyboard Glide Tray (Keyboard Sold Separate)
• Heavy-Duty Ball Corners
• Removable V-Cut Front Cover
• Rear and Bottom Cable Port
• Recessed Handle and Latches
• Exclusive Patent Pending Bevel Foam Interior
• Storage / Ventilation Pit
• Bottom Rubber Feet
• Limited Lifetime Warranty

***EQUIPMENT NOT INCLUDED***

*For the safety of your equipment, do not transport with gear stored on the glide platform and be aware that the platform can be removed when slid out to its furthest point.