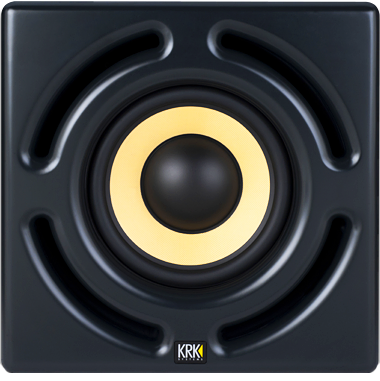 KRK S12S-HO
12sHO
High Output Powered Studio Subwoofer
Large and powerful nearfield studio monitors require a subwoofer that can achieve high sound pressure levels—and KRK's 12sHO is a powerful, sonically pure addition to any studio setup. Whether for stereo or surround formats, the 12sHO subwoofer reproduces low-frequency detail as well as the LFE channel's demanding bass content. These challenging applications place demands far exceeding the capabilities of traditional low frequency drivers and power amplifiers, so KRK developed the 12sHO (HO for "High Output") as the industry solution for all types of demanding mix situations.
Bypass Footswitch
Mix with confidence. The bypass footswitch control allows you to quickly mute the sub and send full-range audio to your recording monitors.
Heavy Duty Enclosure
KRK Subwoofers feature reinforced MDF enclosures for maximum strength and durability. Never let a spilled beer or wild ninja roundhouse kick stop your mixing session again.
Front-firing Port
We engineered the front port to provide low frequency extension while reducing boundary coupling. The unique shape is optimized to avoid port turbulence.
12sHO Features
12" Woven Kevlar® High Performance Woofer

Bass Extension to 29Hz with a Max SPL of 123 dB

Quad-vented, Front-firing Bass Port

400W Class A-B Power

92db Signal to noise Ratio

Combo XLR-1/4"" TRS Inputs with XLR Outputs

Dedicated LFE Channel with Combo XLR-1/4" TRS Input

Sweepable Crossover Control

Bypass Foot Control included

Reinforced MDF Enclosure
Technical Specs
| | |
| --- | --- |
| Configuration | Front Loaded, Vented Subwoofer |
| System Type | Active Subwoofer |
| Low-Frequency | 12" Woven Kevlar® High Performance Woofer |
| Frequency Response | 29.2Hz - 160Hz (L/R inputs), 29.1Hz - 211Hz (LFE input) |
| Max Peak SPL | 123 dB |
| Amplifier | Class A/B |
| Power Output (Continous) | 400 Watts @ 1% THD+N @ 100Hz |
| Signal to Noise Ratio | 92 dB |
| Amplifier Distortion (THD + N) | ≤ 0.1% @-3dB Of Max Power Output 20Hz-200Hz |
| Input Impedance | 10 KΩ Balanced or Unbalanced |
| Ground Lift | On/Off |
| HPF Bypass | With Footswitch Only |
| Footswitch | Included |
| Indicators | Power, Protection, Limiter |
| Input Connectors | Balanced XLR for Left & Right inputs |
| LFE Input | Balanced XLR |
| Output Connectors | Balanced XLR for Left & Right |
| AC Power Input | Selectable 110V-120V / 220V0240V |
| Enclosure | 18mm & 36mm Reinforced MDF |
| Finish | Textured Paint |
| Hardware | N/A |
| Dimensions (H x W x D) | 20" (508 mm) X 20" (508 mm) X 22.48" (571mm) |
| Weight | 109.7 lb. (49.7 kg) |