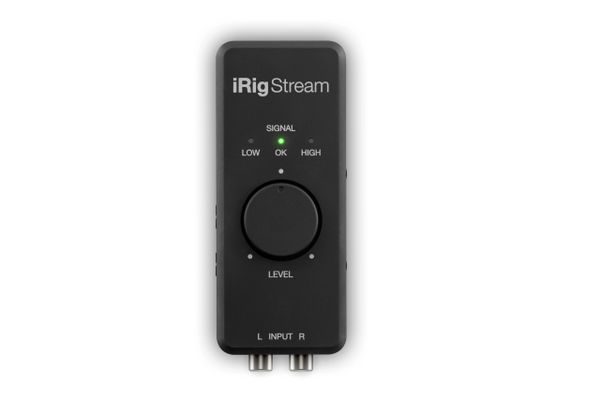 Irig Stream
Connect Your Music With the World
The first audio interface designed for live streaming.
Today's mobile devices make it easier than ever to share your music with the world. From Instagram live-streams to YouTube videos, SoundCloud playlists and more, social media and smartphones have become a key aspect of how many musicians get heard and connect with fans.
iRig Stream makes it easier than ever to share, letting you connect instruments, mixers and more to your iPhone, iPad, Android device and Mac/PC, with convenient features designed just for use on today's most popular platforms. Whether it's mono or stereo, live playing or an existing mix, iRig Stream gets you connected to all your favorite apps, so you can start connecting with listeners instantly.
Get Connected
iRig Stream makes it easier than ever to connect. With USB, USB-C and Lightning cables right in the box, it plugs into all the latest iPhones, iPads, and Android devices, as well as Mac & PC - even the latest devices.
2 line-level RCA inputs are perfect to connect DJ and multi-channel mixers, but are also great for keyboards, synth & drum machine setups, and more. Whether you're looking to stream your DJ set, record band practice, jam along with your favorite song, or even host a podcast, iRig Stream lets you connect a massive range of gear.
Sound Your Best
iRig Stream offers 24-bit, 48 kHz A/D and D/A converters to ensure a clean, professional signal regardless of the platform you'll wind up on. And adjustable input gain and easy-to-read level indicators let you dial in the right sound level instantly.
Designed for Apps
If you're ever tried streaming or sharing audio on social media, you know many apps only support mono signals - so iRig Stream offers a mono/stereo switch to compensate. Stereo passes both inputs as left & right channels, and mono mixes them together to a single channel, ensuring you won't lose anything panned to one side.
iRig Stream also offers a loopback function that lets you mix the output of your device with the incoming signal. Load up a backing track in your favorite music app, jam along on your instrument, then send both signals together to a video or live-stream - all on one device!
Comprehensive Compatibility
iRig Stream works with any app that records or streams audio or video, so you'll never stop finding new ways to use it. To get you started, it includes iRig Recorder 3 LE (iPhone/iPad/Android) - an easy-to-use, high quality audio and video recording app. Record, trim, edit and share,
right from your device.
Features
• Stereo line input over RCA connectors
• Audio level LED indicators to dial in the right gain quickly
• Up to 48kHz / 24bit resolution for crystal clear sound
• Pre-mixes audio sources down to stereo or mono
• Loop-back mixes incoming signals with your device's audio
• Headphone out with integrated mic input to talk over your music
• Powered by your device for use on the go
• Works with all your favorite apps
Package Includes
• iRig Stream interface
• Lightning to mini-DIN connection cable (60cm/23.62")
• USB C-Type to mini-DIN connection cable (60cm/23.62")
• USB A-Type to mini-DIN connection cable (60cm/23.62")
Specifications
Common
Conversion
: 24-bit A/D, 24-bit D/A
Sampling Rate
: 44.1 kHz, 48 kHz
Power
: USB bus powered or DC IN. When connected to an external PSU (iRig PSU 3A, not included), iRig Stream charge the connected iOS lightning device.
Metering
: 3x LEDs
Device Connection
: mini-DIN
Line Input
Connector
: 2x RCA (unbal.) Left/Right
Nominal Input Level
: -10dBV
Input Impedance
: 16.5kOhms
Frequency Response
: 20 Hz 20kHz
Headset/Phones
Connector
: 1/8" TRRS jack (CTIA wiring standard)
Supply Voltage
: > 2,5V
Microphone Gain
: Adjustable with numbered thumbwheel
Frequency Response
: 20 Hz - 20kHz
Headphone Level Control
: Numbered thumbwheel
Headphone Output Power
: 100mW into 50Ohms
Dimensions
Size
: 105.5mm x 44.5mm x 24mm / 4.15" x 1.75" x 0.94"
Weight
: 65g/2.29oz
CompatibilityiOS Devices
: Compatible with iPhone XS Max, iPhone XS, iPhone XR, iPhone X, iPhone 8 Plus, iPhone 8, iPhone 7 Plus, iPhone 7, iPhone SE, iPhone 6s Plus, iPhone 6s, iPhone 6 Plus, iPhone 6, iPhone 5s, iPad Pro 10.5-inch, iPad Pro 12.9-inch (2nd generation), iPad Pro 9.7-inch, iPad Pro 12.9-inch (1st generation), iPad mini 4, iPad Air 2, iPad mini 3, iPad Air, iPad mini 2, iPad (6th generation), iPad (5th generation). iOS 6 or later is required.
Android Devices
: Compatible with Android devices running Android 5 or later and with USB digital audio capabilities. Micro-USB-OTG mini-DIN cable (sold separately) is required.
Computers
Mac
: macOS® 10.6 or later. One free USB port.
Windows
: Fully supports Windows 10 WASAPI for low latency audio. One free USB port. (ASIO4ALL is required on Windows 7 and 8 for low latency audio. Visit ikmultimedia.com for further details.)