Hercules DjControl MP3 COMPACT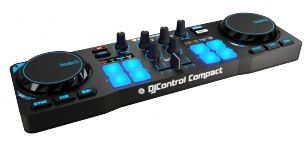 Hercules DjControl MP3 COMPACT
Description
The most complete and portable DJ controller!
THE "On the go" DJ companion:
Compact: 13,4 x 3,9" / 34 x 10 cm
Fits very easily into a bag or laptop shoulder bag
USB bus-powered (detachable USB cable supplied)
Weight: < 1.23 lbs / 0.56 kg
Compact. Complete. Charismatic.
A 16:9th design, ideal for transporting without making concessions on the features!
Ergonomics that adapt perfectly to your laptop
Concentrated Djing: all the essential functionality in an ultra-portable design
Two-deck DJ controller
2 jog wheels + 2.95"  (7.5 cm)
4 modes (Loop, Fx, Samples, Cue) per deck
4 pads per deck
2 equalization potentiometers per deck
1 volume potentiometer per deck
1.77" (45 mm) crossfader
10 control buttons including a SHIFT command allowing you to double all the pad controls.
The essentials of the mix at your fingertips
Scratch as naturally as with a vinyl record with the help of the jog wheels
The jog wheels also control the Pitch and navigation within the tracks
Highly intuitive features to create Loops, add effects and launch samples thanks to the unrivalled feel of the pads!
Technical specifications
Technical specifications
Two-deck control surface
•Jog wheels
•Mixer controls in the center, individual deck controls on the left and right
•Compact design
DJUCEDTM 18° DJ software
•Powerful and intuitive software
•Mix two audio tracks on the fly
•Save your mixes as audio files
Available for free on www.djuced.com
Compatible with the most popular DJ software (Traktor, Virtual DJ*) and all the MIDI-compatible software
Box contents
•Hercules DJControl Compact
•35.4" (90 cm) USB cable
•Quick installation guide
•Paper manual and online manual

Minimum configuration
Computer processor: 2.0 GHz or faster
1 GB of RAM or more (64-bit OS: 2 GB)
Powered USB port
100 MB of available hard drive space
CD-ROM/DVD-ROM drive
Internet access
Amplified stereo speakers and headphones
Operating system (32/64 bits)
MS Windows® Vista/7/8/8.1/10 or Mac OS® 10.7/10.8/10.9/10.10 on Mac Core Duo
Illustrations/Diagrams