Focusrite Scarlett Solo Studio Pack 3rd Gen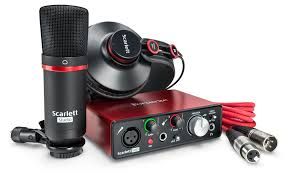 Focusrite Scarlett Solo Studio Pack 3rd Gen
Scarlett Solo Studio Pack 3rd Gen
You won't get a better sounding, more reliable recording package. Scarlett Solo Studio provides singer-songwriters with the simplest all-in-one
solution for a reassuringly easy recording process. Right out of the box you get a Scarlett Solo USB audio interface, condenser microphone,
3-metre XLR microphone cable, closed-back headphones, and free software so you can start making music in no time at all. The Scarlett Solo
features a single upgraded third-generation Scarlett mic preamp: with optional Air setting to reproduce the Air effect of Focusrite's original
ISA mic preamp, giving your vocal recordings a brighter and more open sound. The CM25 MkIII condenser microphone enables you to capture
studio-quality recordings that are faithful to the original source, while the HP60 MkIII closed-back headphones, with a new improved design,
offer high sound quality and long-lasting comfort when recording and mixing.