Floor Model Lab Gruppen FP14000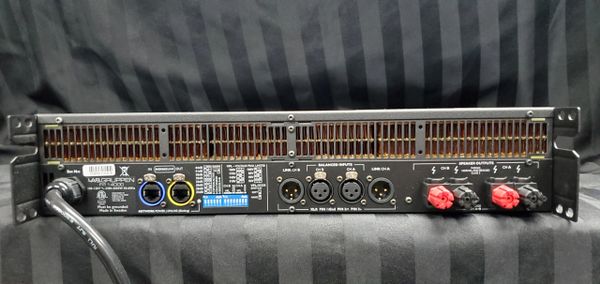 Floor Model Lab Gruppen FP14000
The flagship of Lab.gruppens touring amplifier line, the FP 14000 produces a staggering total output power of 14000 W an unprecedented achievement in a 2U frame weighing only 12 kg. The forceful high-current output stage is built around patented Class TD technology, a breakthrough topology that approaches the efficiency of Class D while retaining the favored sound quality of proven Class B designs. At the same time, Lab.gruppens Regulated Switch Mode Power Supply (R.SMPS) has been updated to provide more sustained high power during extended bursts of low frequency content.
The FP 14000 is shipped with a NomadLink network interface as standard. In conjunction with DeviceControl software, NomadLink allows monitoring of all key amplifier parameters and remote control of power on/off, channel mutes, and channel solo functions. (NomadLink requires the separate NLB 60E NomadLink Bridge & Network Controller)
View all key performance parameters at a glance in real time on the comprehensive front panel display. The FP+ provides the most complete and useful front panel indication on the market today. Bright, color-coded LEDs give clear status indication of all control activation, warnings and faults without scrolling through menus. Conditions such as blown drivers, shorted lines, and over-temperature channels are easily recognizable. You wont waste time trying to decipher a generic trouble light.
The FP+ rear panel provides all the input and output connections youll need plus RJ45 in and out for NomadLink control and monitoring. With the DIP-switch matrix, you can assign a hard or soft attack to the limiter functions, set overall gain to one of seven different levels, bridge any pair of channels, and set the VPL for optimum output characteristics with the connected load. All in a matter of seconds while the amp is in the rack.
To achieve the extreme power-to-size ratio in the FP+ Series, Lab.gruppen engineers refined and upgraded two proprietary technologies: the regulated switch-mode power supply (R.SMPS) and the patented Class TD output stage. Both are incorporated in all four FP+ Series amplifiers. Working together, this new generation of proprietary circuits produces more power from a smaller package while at the same time maintaining Lab.gruppens peerless reputation for sonic excellence.
To ensure efficient, uniform cooling, the ultra-efficient Intercooler uses thousands of tiny cooper cooling fins to increase exposure of the heat sink to the cooling air flow. Twin variable-speed fans respond to temperature sensors, forcing air over the Intercooler fins in a front-to-rear flow. All output devices are mounted transverse to the airflow, so the cooling effect is uniform. There are no end-of-tunnel output transistors subject to greater warming and, consequently, possible premature failure.
Overall amplifier gain (input sensitivity) is adjustable in eight steps from +23 dB to +44 dB via three rear-panel-mounted DIP-switches, making it possible to precisely match the amplifier to any input source device. Individual channel gain is adjustable in 3 dB increments from 0 dB to -infinity via four front-panel-mounted level potentiometers. These are located below the indicators, and behind the detachable front panel grille, which effectively serves as a security cover.
The Voltage Peak Limiter (VPL) is fully user-adjustable, providing the unique option of selecting maximum output peak voltage and thereby the maximum output power. This is convenient when using the amplifier to drive speakers with different power requirements, and when connecting to constant voltage systems requiring 70 V or 100 V at the output. Eight individual output voltage levels are selectable.
The Current Peak Limiter (CPL) protects amplifier and power supply modules, as well as preventing damage to connected loads. Following the VPL and CPL circuits, several other important monitoring and protection features are provided. These include circuits for monitoring and control of voltage, current, and temperature.
FP+ Series amplifiers are a lasting investment. Designed and built in the tradition that has made Lab.gruppen world-famous among tour sound companies, FP+ is an icon for reliable amplification and consistently superior performance over the long term.
Product Features:
Unprecedented power density: higher output in a compact (2U), lightweight frame
Seven models allow rack configuration flexibility a perfect match for any application
Two- and four-channel versions
Proven durability in extreme touring conditions
A full suite of protection features for fail-safe operation
Patented Class TD output stages for high efficiency and sonic transparency
NomadLink network monitoring and control (module included as standard)
All channels bridgeable with automatic -6dB summing compensation
Outputs optimized for load conditions with VPL
Craftsman-built in Kungsbacka, Sweden