Behringer UFO202 USB Audio Interface w/ Phono Preamp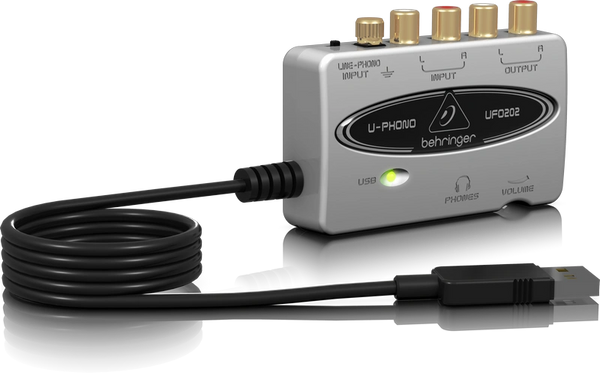 Behringer UFO202 USB Audio Interface w/ Phono Preamp

U-PHONO UFO202
Audiophile USB/Audio Interface with Built-in Phono Preamp for Digitalizing Your Tapes and Vinyl Records.

But, if you do, and you love them as much as we do, you're also going to love the amazing UFO202 – the simple and affordable way to get your vinyl records and tapes into the digital realm. The U-PHONO UFO202 is supremely-easy to use and comes with a bevy of professional software that, not only converts your favorite recordings into a computer-based music library – but removes the scratches and pops so common to vinyl media. State-of-the-art, switchable Line/Phono preamps and digital converters ensure the utmost in sound quality, making the U-PHONO UFO202 Audio Interface a must-have for every audiophile.

Features:
High-quality USB/audio interface connects your turntable, cassette player etc. with your computer for recording and playback
Transfer and restore your valuable vinyl records and tapes to your computer via a simple USB connection
Audacity* vinyl restoration, noise-reduction, editing and recording software plus comprehensive podcasting software available for free at www.behringer.com
Phono input switchable to line input source
Stereo output allows easy connection and playback of computer audio files over your home sound system
High-resolution 48 kHz converters for high-end audio quality
Stereo Headphone output with dedicated Level control lets you monitor your input source
Works with your PC or Mac* computer—no setup or drivers required
Powered via USB

no external power supply needed

3-Year Warranty Program*
Conceived and designed by BEHRINGER Germany
System Music Warehouse is a Canadian authorized Behringer retailer.