Behringer UCG102 Guitar Interface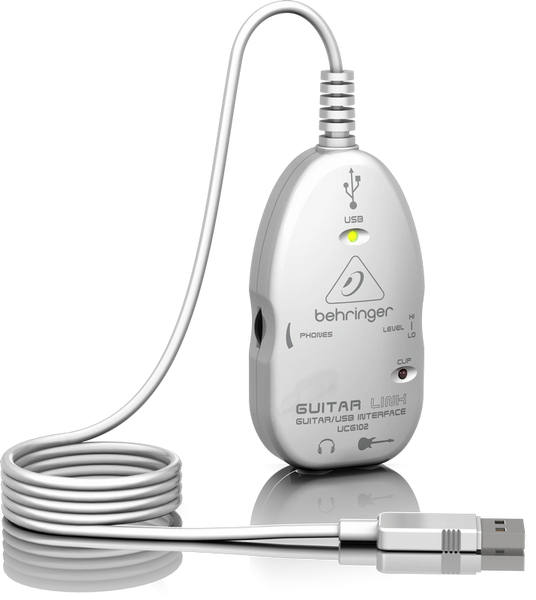 Behringer UCG102 Guitar Interface

GUITAR LINK UCG102
The Ultimate Guitar-to-USB Interface for Recording and Jamming with your PC/Mac or iOS device.

he guitar is a time-tested cornerstone of popular music. But to get your music out there, you need to record, right? Hook up your axe directly to pop's present and future with the GUITAR LINK UCG102. It interfaces seamlessly with PC or Mac* operating systems and utilizes an ultra-low latency ASIO driver, so nothing gets in the way of you and your passion. The stereo headphone out lets you jam along with your tracks without disturbing the neighbors, or use it to hook up a pair of active monitors and get your friends in on the action!

Super Software
Included with the UCG102 is Native Instruments' "AC Box Guitar Combo," which emulates one of the most iconic 1960s British amps with its original cabinet impulse response, Tremolo effect, spring Reverb and Treble Boost pedal. Also included are a precision tuner, metronome and a variety of stomp boxes for stunningly real amplifier tones. The variable-speed virtual tape deck lets you play along with your favorite artists and backing tracks, or to record your own ideas.

Compose. Record. Mix. Share.
Tracktion is one of the world's fastest and easiest Digital Audio Workstations (DAW) for composing, recording, editing, mixing and sharing your music with the world. Featuring a single-screen interface, and pushing the envelope in design elegance, Tracktion brings together outstanding Pro DAW features, such as dynamic automation, unlimited track count, MIDI recording and support for VST and AU plug-ins. This powerful music production software gives you all the tools of an entire professional-grade recording studio. Learning a DAW has never been easier, thanks to their vast and readily available library of resources. As our way of saying "Thank You" when you register your GUITAR LINK UCG102 at behringer.com, we'll reward you with a complimentary download code for the full version of Tracktion. Recording and editing couldn't be easier. To learn more about Tracktion, visit tracktion.com/support/videos. Share the Love. Visit tracktion.com

Features:
Plug in your favorite guitar and turn your PC or Mac* computer into a guitar amp and recording system without the need for any other hardware
Opens up a world of free or commercial guitar amp and stomp box modeling plugins for your guitar sound (find reference links on www.behringer.com)
Directly works with your PC or Mac computer—ultra-low latency ASIO* driver for PC audio optimization available at www.behringer.com
Connect the Guitar Link interface to the camera connection kit of your iOS device and enjoy jamming with countless guitar apps
Stereo Headphone output lets you jam with your computer and can also be used for monitoring with active monitor speakers
Powered via USB

no additional power supply required

3-year warranty program*
Conceived and designed by BEHRINGER Germany
You Are Covered
We always strive to provide the best possible Customer Experience. Our products are made in our own MUSIC Group factory using state-of-the-art automation, enhanced production workflows and quality assurance labs with the most sophisticated test equipment available in the world.
As a result, we have one of the lowest product failure rates in the industry, and we confidently back it up with a generous 3-Year Warranty program.
System Music Warehouse is a Canadian authorized
Behringer
retailer.