Behringer Truth B1030A Studio Monitor (Each)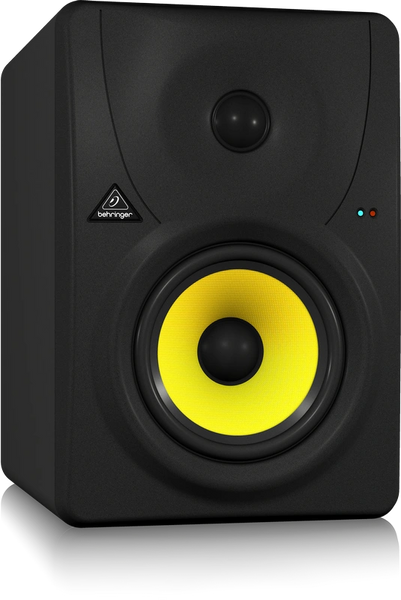 Behringer Truth B1030A Studio Monitor (Each)

TRUTH B1030A
High-Resolution, Active 2-Way Reference Studio Monitor with 5.25" Kevlar Woofer.

Our TRUTH B1030A monitors have been so wildly successful, that we've sold thousands upon thousands of them to some of the most critical ears on the planet. Due to their high-resolution performance, B1030A active 2-way reference studio monitors are perfect for near-field monitoring applications – from small mixing environments to multichannel surround setups. When it comes to your studio recordings, you want honesty. In fact, considering how important your art is, you should demand it! That's why we designed the B1030A Active 2-Way Reference Monitor to speak nothing but the TRUTH. The B1030A boasts big power, 75 Watts of bi-amplified output to an ultra-responsive, long-throw 5.25" Kevlar woofer, which provides "bullet-proof" tight and accurate bass – and a high-resolution 1" silk dome tweeter for crystal-clear highs. And although it was designed for the studio, where every note you play or sing is always "under the microscope", the B1030A makes an absolutely fantastic addition to your stereo or video surround system!

Features:
Ultra-linear studio monitor with true active design
Precision Class A/B amplifiers with active protection circuits: 50 W for LF / 25 W for HF
Ultra-high resolution 1" silk dome tweeter for ultimate sound reproduction
Long-throw 5.25" woofer with deformation-resistant Kevlar cone for ultimate bass response
Ultimate dispersion characteristics and extremely large "sweet spot" owing to advanced wave guide technology
High-precision crossover network with 4th order Linkwitz-Riley filters
Adjustable to a wide range of acoustic conditions
Separately controlled limiter for low and high frequency overload protection
Magnetic shielding allows placement near computer monitors
"Planet Earth" power supply for maximum flexibility (100
- 240 V~), noise-free audio, superior transient response plus low power consumption for energy saving
Servo-balanced inputs with XLR, 1/4" and unbalanced RCA connectors
3-Year Warranty Program*
Conceived and designed by BEHRINGER Germany
System Music Warehouse is a Canadian authorized Behringer retailer.