American DJ 3 Sixty 2R Dual Moving Head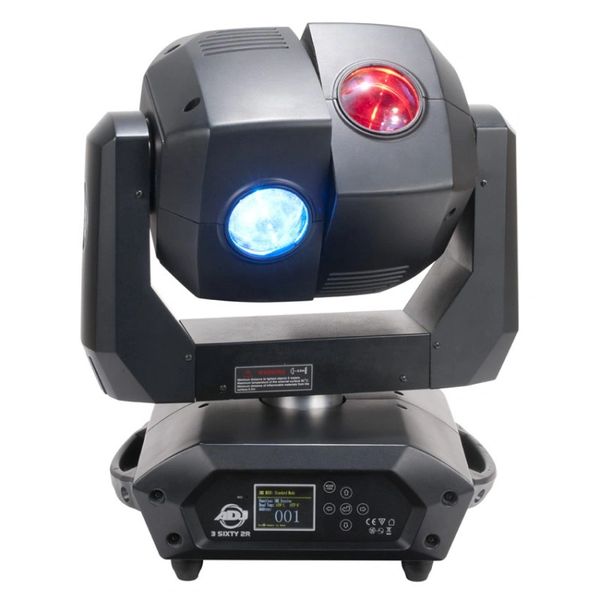 American DJ 3 Sixty 2R Dual Moving Head
When ADJ co-engineered the Platinum 2R with Phillips®, the result is a top of the line lighting fixture sure to dazzle the crowd at a night club or large event. The 3 Sixty 2R from ADJ features dual moving heads that deliver continuous 360 degree rotation and infinite panning in either direction. Creative sparks will fly when you add the 3 Sixty 2R to your collection! If you're serious about professional quality effects, then this is the right piece for you.

ADJ's 3 Sixty 2R will amaze and energize the crowd with top-quality, dynamic lighting. This moving head lighting fixture uses 2 Phillips(r) MSD Platinum 2R discharge lamps with 135W output and 6,000 hour lamp life. The ADJ 3 Sixty 2R brings the dance to your party and will make your large school dance, club show, stage production, or any other event more exciting. Light up the night with 13 different colors (plus white), 14 fixed GOBOs and dual rotating heads for a dazzling display! For added effects, use with a smoke or fog machine to amplify the ambiance and bright colors.

Specifications
Unique dual Moving Head with a bright white Phillips MSD Platinum 2R lamp source
360° continuous Pan / Tilt movement /rotation
13 colors + White
14 fixed gobos + open spot
Auto X-Y repositioning
3 Operational modes: DMX, Master/Slave & Sound Active
3 DMX Channel modes: Standard, Basic & Extended (21, 24, 32 Ch.)
6-Button, full color LCD
Built-in programs
Separate, static Color & Gobo Wheels
8-facet prism
Frost filter for wash effect
Shutter: Pulse effect; random strobe slow to fast
Fan Cooled
4° beam angle
RDMX Compliant
RDM Compliant
3-pin XLR chassis mount DMX connectors
Stepper motors with micro stepping
IP Rating: IP20
Power consumption: 400W total
Multi-voltage operation: AC 100-240V 50/60Hz- Powercon In
Light Source: 2x Philips® MSD Platinum 2R discharge, (135W, 8,000°K – 6000 hr. long life)
Lux @ 10M: 50460 Lux
Dimensions (LxWxH): 17" x 13" x 18.75" / 428 x 326 x 473mm
Weight: 45 lbs. / 20.5 kgs.