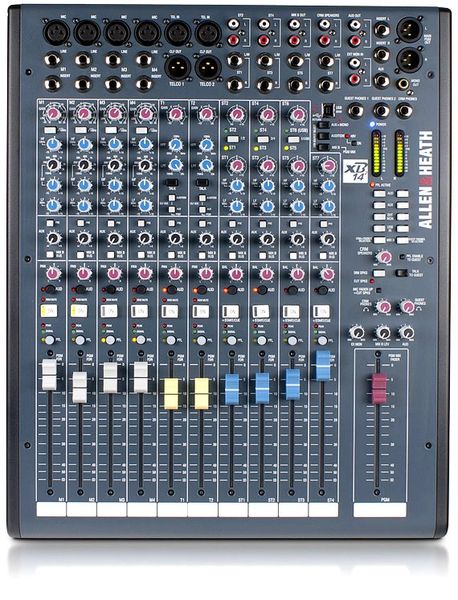 Allen & Heath XB2-14
XB2-14
XB-142 offers a host of specialized broadcast features that normally come at a much higher price, including telephone communication (telco) channels, mic channel ON switch sensing, stereo channel start/cue outputs for playback device control, automatic muting of speaker outputs and much more.
XB-142 incorporates new features and styling based on feedback from the many broadcasters who have built their operations around the original XB-14. With a wealth of routing options, dual stereo channels for up to 7 stereo sources, and the addition of a dedicated Audition bus, enhanced microphone preamps and stereo channel gain range, XB-142 satisfies the demands of small radio and internet broadcasters as well as larger studios with multiple rooms. With no less than 27 logic I/O for remote control and 15 configuration switches, XB-142 is a highly flexible solution.
• Mono Microphone/Line input channels, XLR mic, TRS jack for Line.
• Telephone Communication channels
• Stereo input channels, TRS jack and RCA phono connectors.
• USB stereo audio in & out port.
• Fader start logic on mono channels
• Start/cue logic from stereo channels
• Remote mute facility on mono channels
• Main program (PGM) bus.
• Aux bus with pre or post fader switched source.
• Control room speakers can be muted automatically from mic channels or
remotely.
• CRM headphones with monitor selection switches.
• Guest headphone outputs with source selection separate to the CRM
monitoring.
• Talkback facility to guests or telephone callers.
• External monitor input.
• Main PGM output on balanced XLR connectors at +4dBu nominal
• Remote control D Type connectors for fader starts, deck start/stops,
mutes, etc.
• Rugged worldwide voltage internal power supply without fan.