Adam Audio AD-S2V S-Series 2-way 7" Woofer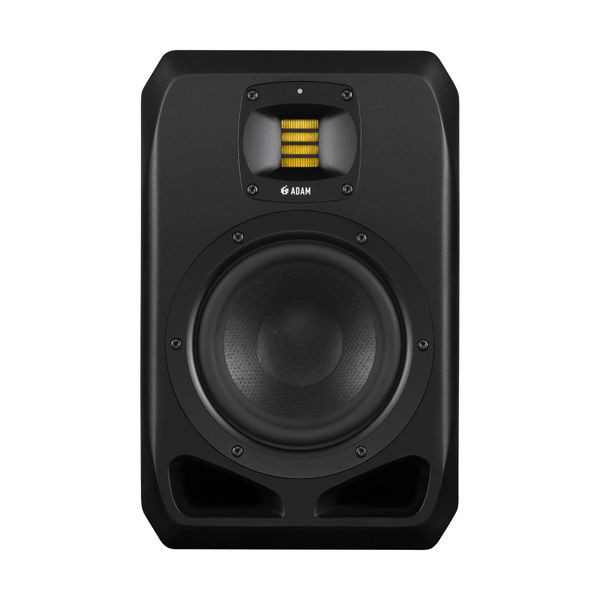 Adam Audio AD-S2V S-Series 2-way 7" Woofer
ADAM Audio S2V
The S2V is a classic two-way nearfield monitor designed for use in small-to-medium-sized control rooms.
The 7-inch bass driver, newly created from the ground up for the S Series, covers frequencies ranging from 35 Hz to 3 kHz and delivers a powerful, distortion-free low-end with a wide dynamic range. The carefully refined S-ART tweeter, handbuilt as ever at the ADAM Audio factory in Berlin, works seamlessly in tandem with the newly developed HPS waveguide, creating absolutely precise imaging within a generously proportioned sweet spot.
The S2V's compact dimensions belie its impressive power. A 300 W Class D amplifier drives the woofer while a 50 W Class A/B unit handles the S-ART tweeter; the combined output produces SPLs of up to 120dB per pair.
The S Series' custom-designed DSP optimizes the loudspeaker crossovers to create linear responses for the entire range, as well as providing user equalization and in-room tuning/voicing functions. The DSP also handles the limiter-based high-frequency driver protection, processes the signals from the AES3 digital inputs, and will in time facilitate various expansion options. Software updates can be carried out with ease via the associated USB port, which also allows users to connect computers and control the speakers' DSP functions via a software front-end.
With its highly accurate frequency response and balanced, razor-sharp imaging, the S2V allows users to pinpoint even the most subtle audio details, making it an ideal choice for use in demanding studio environments.
STATE OF THE ART TECHNOLOGY
ADAM Audio monitors have earned a worldwide reputation as the preeminent tool for sound engineers based on technological innovations that we've established in the field of loudspeaker technology.
ELE BASS DRIVER
Custom-built bass driver created specifically for the S Series, using ADAM Audio's engineering design experience and the latest computer modeling techniques.
DCH Midrange Driver
A self-developed, groundbreaking one-piece hybrid dome/cone design, offering the sonic advantages of both driver types, with minimal partial resonances.

HPS Waveguide
The S-ART tweeter comprises the latest iteration of ADAM's respected folded accelerated ribbon design, produced to tighter tolerances than ever before.
High Performance DSP Module
Custom DSP engine implements perfect crossovers for optimal frequency response and maximum dynamic range, in addition to EQ options and presets for in-room optimization.
Technical Data
Woofer
| | |
| --- | --- |
| Number | 1 |
| Basket Ø | 7" (178 mm) |
| Voice Coil Ø | 1.5" (39 mm) |
| Cone Material | HexaCone |
Tweeter
| | |
| --- | --- |
| Number | 1 |
| Type | S-ART |
| Diaphragm Area | 4 inch² (2420 mm²) |
| Equiv. Diaphragm Ø | 2" (56 mm) |
| Velocity Transform Ratio | 4:1 |
| Diaphragm Weight | 0.17 g |
| Waveguide | HPS |
Built-in Amplifiers
| | |
| --- | --- |
| Number | 2 |
| Woofer | 1 |
| Type | PWM |
| Amp. Power RMS | 300 W |
| Tweeter | 1 |
| Type | A/B |
| Amp. Power RMS | 50 W |
Control Options
| | |
| --- | --- |
| Input Sensitivity | Adjustable |
| Parametric EQs | 6 |
| Room Compensation High-Shelf EQ | 1 |
| Room Compensation Low-Shelf EQ | 1 |
| Preset Memories | 5 |
| Delay | 0 ms to 5 ms |
Input Connectors
| | |
| --- | --- |
| Analog | XLR |
| Input Impedance | 48 kOhm |
| Max. Input Level | +24 dBu |
| Digital | AES3 |
General Data
| | |
| --- | --- |
| Panel | Rear |
| Frequency Response | 35 Hz - 50 kHz (-20 dB) |
| THD > 100 Hz | ≤0.4 % |
| Max. SPL per pair at 1 m | ≥120 dB |
| Crossover Frequencies | 3 kHz |
| Max. Power Consumption | 230 W |
| Weight | 24.2 lb (11.0 kg) |
| Height x Width x Depth | 13,6" (346 mm) x 8,7" (222 mm) x 13,3" (338 mm ) |
| Warranty | 5 years (2 years warranty plus 3 years optional with product registration) |
| Delivery Contents | Power cord, Manual |